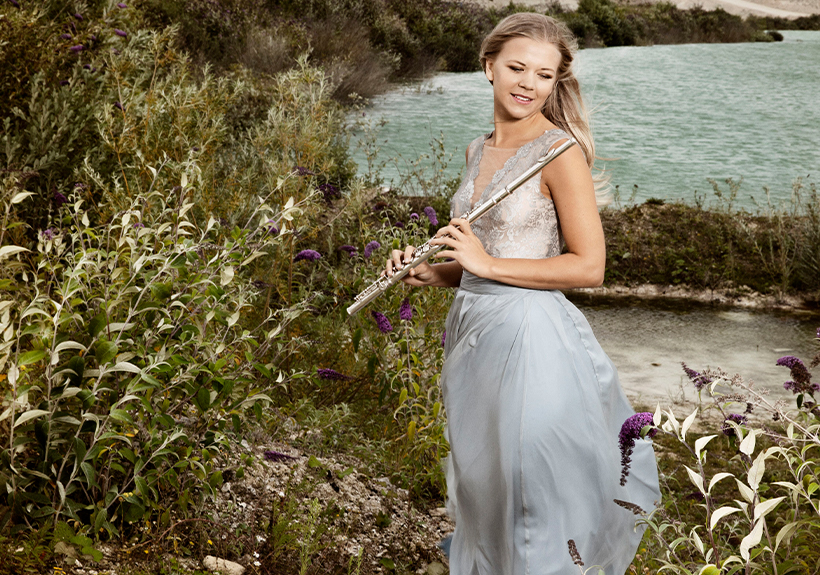 Ingrid Søfteland Neset flute
Ingrid S. Neset was born into a musical family in the western part of Norway in 1992. She began playing the flute as an 11-year-old, participated in several competitions and won the youth music championship where she was named "Musician of the Year" before travelling to study at the Royal Danish Music Conservatory in Copenhagen 2010. She completed her bachelor's and master's degree after four years at Toke Lund Christiansen, and then spent two years on the solo class with Ulla Miilmann. From October 2019 she has been attending solo class at the Hochschule für Musik Stuttgart with Professor Davide Formisano.
She has been a soloist several times with the Bergen Philharmonic Orchestra, Stavanger Symphony Orchestra, the Armed Forces' Music Corps Vestlandet and the Trondheim soloists. Has received several awards and awards, among others. Statkraft's "Young Star" award and Sonning talent scholarship.
Has been selected as part of the Talent Norway ArtEx program 2019-2020 with Wolfgang Plagge as her mentor.
As a 23-year-old, she won the position as soloist in the Stavanger Symphony Orchestra where she played until the fall of 2018. Since then she has also hosted the Oslo Philharmonic, Bergen Philharmonic Orchestra, the Norwegian Chamber Orchestra, KORK, Denmark Radio Symphony Orchestra, Malmö Symphony Orchestra and the Royal Chapel. in Copenhagen. She is currently playing on a 2-year contract as a solo flute at the Copenhagen Opera, the season 2018/2019 and 2019/2020.
She is also an active chamber musician and has collaborated extensively with her brother and jazz saxophonist Marius Neset. She premiered music he wrote for her debut concert in September 2017. This music is now recorded and will be released on CD in 2020. She has also appeared on several of Marius's CDs, and played for sold-out houses in both the Cologne Philharmonic and Elbphilharmonie Hamburg.