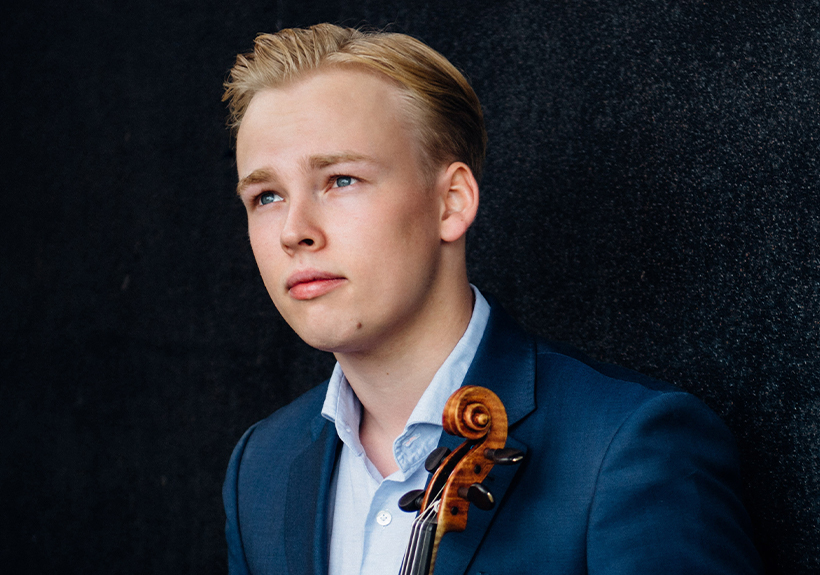 Ludvig Gudim violin
For many, Ludvig Gudim from Risør became a familiar face when he won NRK's ​​"Virtuoso" competition in 2016 and represented Norway in the Eurovision's final in Cologne, where he played for many millions of European TV viewers.
The following year, he joined the prestigious Juilliard School of Music in New York, where he studied with Li Lin and Itzhak Perlman, one of the world's leading and most popular violinists for several decades.
Ludvig was born in 1999 in Arendal and started playing the violin at Risør cultural school as a six-year-old. When he was eight the family moved from Risør to Ås and Ludvig became a student at the Barratt Due Music Institute with Stephan Barratt-Due and Henning Kraggerud as teachers.
Already in 2013, he travelled to New York to participate in the Perlman Music Program, a summer program for gifted young musicians. The following year he won the third prize in the Menuhin competition, which is the world's leading international competition for young violinists under the age of 22 and in 2019 he emerged victorious from Juilliard's own violin competition.
At home he is named "Musician of the Year" in the Youth Music Championship, he has won the Norwegian soloist award and the second prize in Princess Astrid's International Violin Competition.
He has been a soloist with the leading Norwegian and a number of international orchestras. He was concertmaster for several years at the Junior Orchestra Barratt Due and experienced that The Korean Herald "praised him as" a world-class concertmaster "when the orchestra was touring South Korea in 2016. Ludvig is a committed chamber musician. Already during his first year at Juilliard, he started his own quartet with three fellow students; Abeo Quartet. He has played chamber music with highly acclaimed musicians, such as Janine Jansen, Kathryn Stott, Steven Isserlis, Christian Tetzlaff, Lars Anders Tomter and with musicians from the Berlin Philharmonic.
Ludvig plays on an Antonio Stradivari from 1710, loaned from the Anders Sveaas Public Benefits Fund.